Angels
Dedicated for beloved dogs, which now are over the rainbow.
MASJA 'A Lot Like Love Golightly'
22.06.2016-01.12.2016
There is no day when I don't think about you, my little baby... What could have been done to save you? Run free, my curly diamond and guard us all from Heaven.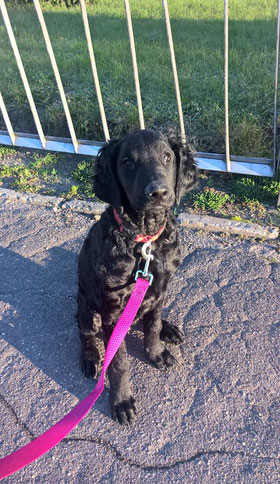 JOY 'Marnellin Joy To The World'
08.08.2001-29.01.2011
Joy came at our home from famous Finland kennel "Marnellin" at October 2001. We expected, that she will be very perspective show dog. Some years later she became real show star, amazing pet and beloved family member. 
During all her life she had a fantastic show career. Judges were fond of her. At the age of 9,5 years she had such titles as INT, LV, EST, LT, BALT CH, RUS, SLO, PL, BLR CH. LT WINNER'06'09, LV, LT, EST, BALT VCH, BALTIC VETERAN WINNER'09'10, LV VETERAN WINNER'10. At 2009 she was Latvian TOP 3 Veteran. At 2010 she received TOP 2 Veteran from all breeds, but unfortunately award ceremony was after Joy's passing away. 

She has gone over the rainbow bridge at 29th of January because of liver cancer. 
During all her life she completely improved her name - Joy To The World. She was our world's Joy, who made our life easier, happier and warmer. 
We will love you forever, very special girl. 
We will see you again... but not yet... not yet.